Steel Dawn weapon
Mind Over Matter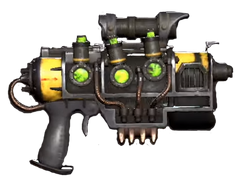 level
15 / 25 / 35 / 45
damage


13 / 15 / 17 / 20
clip size
30
fire rate
33
range
120
accuracy
144
AP cost
25
weight
3.0
value
85

reload time
2.33?
projectiles
1
bash dmg

15
critical
+100%


out-of-range
-50%


sound
Loud
stagger
Small
attack time
0.30 (delay)
0.03 (animation fire seconds)
sight time
0.15s
unsight time
0.20s
draw time
0.15s
durability
?
damage
Mind Over Matter is a ranged weapon in the Fallout 76 update Steel Dawn.
Contents
1 Characteristics
2 Locations
3 Notes
4 References
Characteristics
The Mind Over Matter is a unique plasma gun, which may only be obtained on an optional step during Field Testing. The weapon is geared towards manual aiming. It shares modifications with the standard plasma gun.
It comes with the following mod configuration:
Weapon modifications
Locations
Notes
Affected by the Grounded mutation.
Slain enemies may turn to goo piles. Enemies finished by a critical hit will always turn into goo.
Anything killed by plasma weapons has a chance to drop nuclear material on death. This chance increases if the target has been melted to goo.
References
Retrieved from "https://fallout.fandom.com/wiki/Mind_Over_Matter?oldid=3494305"
Community content is available under CC-BY-SA unless otherwise noted.