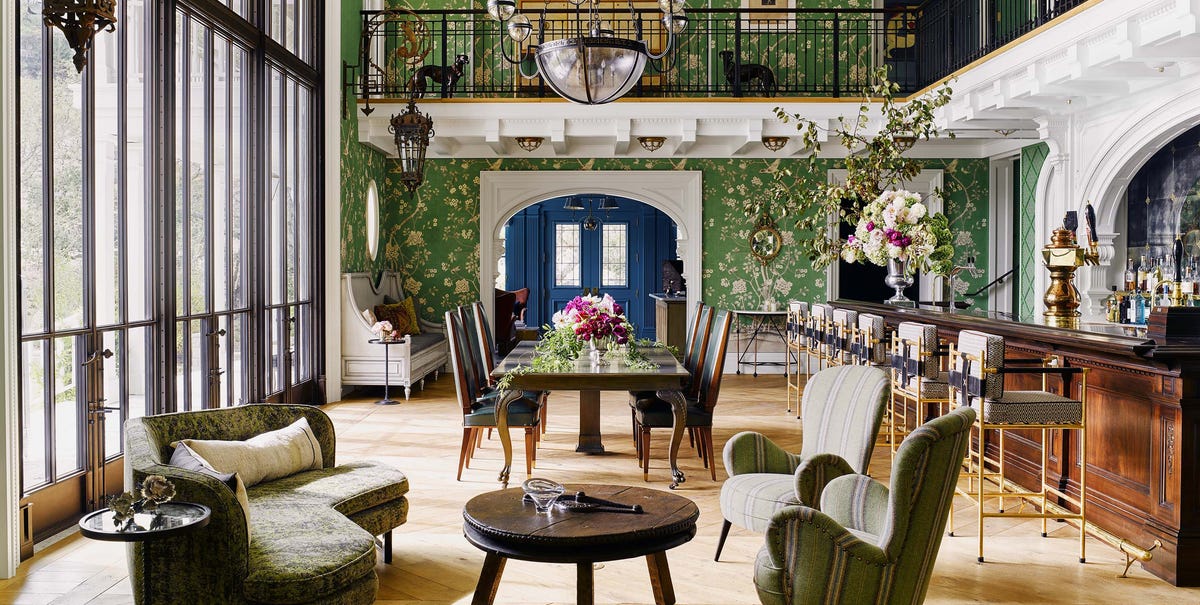 Every item on this page was curated by an ELLE Decor editor. We may earn commission on some of the items you choose to buy.
Inspiration to craft the home of your dreams.
Sep 11, 2019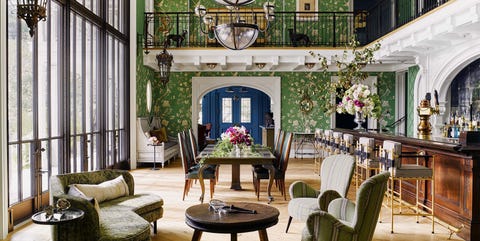 Douglas Friedman
While the process of decorating your home is thrilling, it also comes with its fair share of challenges. Your goal should be to showcase your design aesthetic in a tasteful way, but it's a given that you'll be faced with everything from an interior that lacks natural light to a layout that's much smaller than you'd like. So it's no surprise that these common dilemmas might turn you off from decorating altogether. But instead of viewing them as stumbling blocks, use them as inspiration to design the home of your dreams.
Regardless of the type of space you're decorating, there's nothing more important than paying attention to details—and expressing your creativity. Taking the time to understand the basic principles of decorating, from choosing the right furniture to finding the perfect color palette, will get you one step closer to crafting the home you've always wanted.
Here, we share decorating pointers from our archives and useful tips from top interior decorators to help you make sense of what good design really means. If you're ready to master the art of decorating and up for putting your imagination to the test, click through for some of the best tips in the business.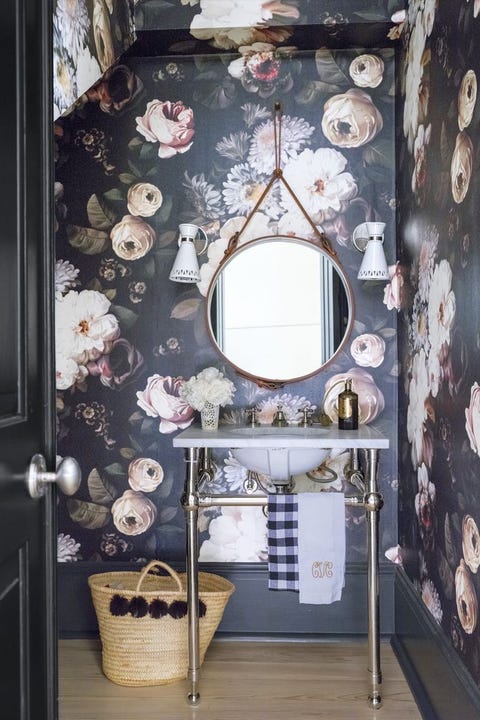 Paul Costello
1 of 79
Go Bold in Small Spaces
Graphic prints can have a major impact in small spaces such as a powder room. Here, an Ellie Cashman floral wallpaper is the star of a powder room a New Orleans manse designed by Sara Ruffin Costello.

$600, Expedition Accent Wall Mirror, Perigold
Get the Look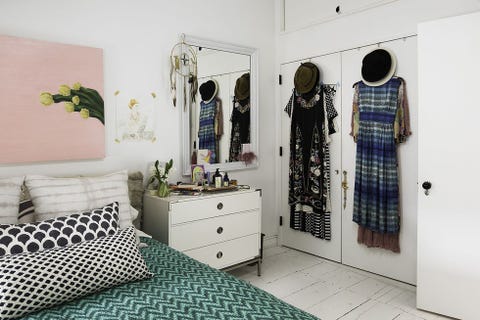 Nicole Cohen
2 of 79
Experiment with Patterns
Layering patterns in a range of styles and scales is an easy way to add visual interest to a room. Here, Refinery29 Global Editor-in-Chief Christene Barberich pairs black and white pillows with green chevron bedding in her Brooklyn Heights bedroom.
$46, Integral Pillow, Anthropologie
Get the Look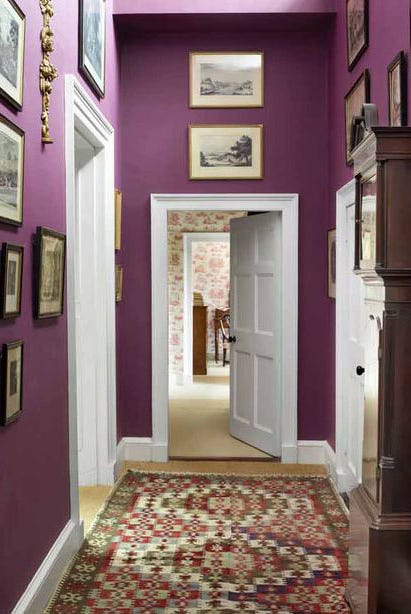 Simon Upton
3 of 79
Use Color in Hallways
If you tend to be more reserved when it comes to color choices, step outside of your comfort zone by choosing a bold hue, like purple, for a hallway. It's unexpected and can be a chic backdrop for showcasing an art collection like this design by David Hicks.
$38, Vigorous Violet, Sherwin-Williams
Get the Look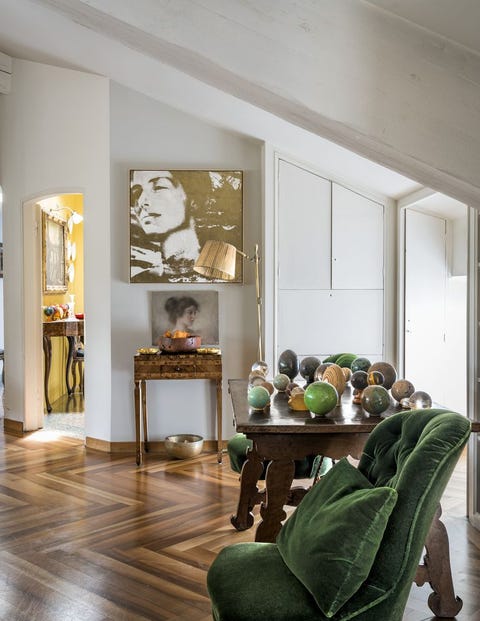 James Merrell
4 of 79
Display Collectibles on a Table
Every room can benefit from accessories that have a history. Rather than showcasing your collectibles on a shelf, set them out on a table, as seen in this Italian apartment. Just be sure your collection is highly curated to maintain a sense of balance in your display.

$1,695, Brooke Club Chair, One Kings Lane
Get the Look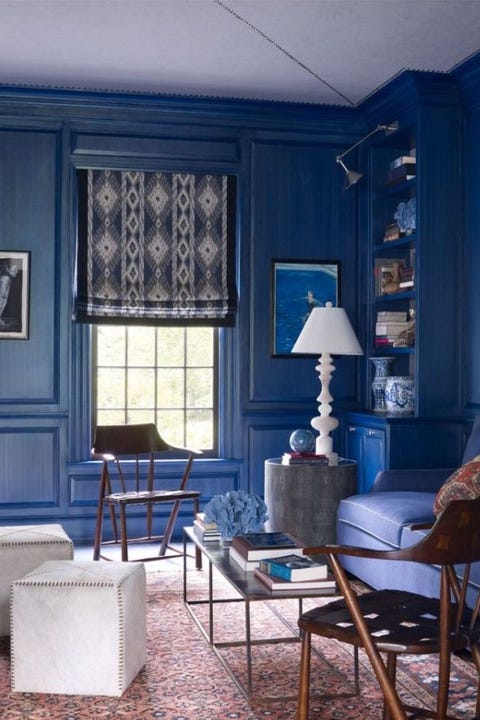 Rebecca Robertson
5 of 79
Group Antiques By Color
There's a fine line between kitschy and curated. Rebecca Robertson unifies vintage and new pieces by grouping them by color.
$173, Skyline Furniture Linen Talc Nail Button Storage Ottoman, Overstock
Get The Look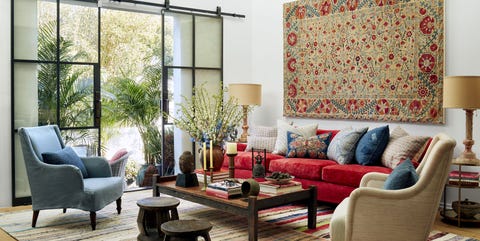 Trevor Tondro
6 of 79
Mix Your Time Periods
"You mix things up with old and new," suggests textiles and interior designer Kathryn M. Ireland, as she did in the living room of her Santa Monica home; a room where the furnishings include 17th-century French chairs, an 18th-century Mexican console, and a cocktail table from her furniture line.
$690, Fredson Coffee Table, Wayfair
Get The Look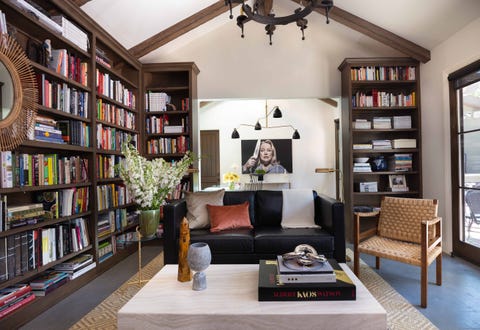 Marie Flanigan Interiors
7 of 79
Try Floor-to-Ceiling Shelving
Floor-to-ceiling shelving never fails to add character to a room. In his Los Angeles home, acclaimed chef Ludovic "Ludo" Lefebvre opted for this shelving style for his collection of more than 1,000 cookbooks.

$749, Woven Leather Lounge Chair, Wisteria
Get the Look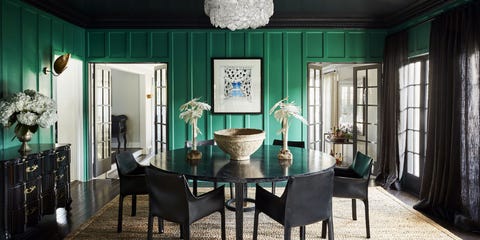 Douglas Friedman
8 of 79
Look at the Bigger Picture
Looking at your home from a holistic perspective—seeing how each room works in balance against the others—can help craft a welcome variety in your spaces, like this emerald and charcoal dining room that adds a touch of formality to an otherwise contemporary Los Angeles home.
$2,462, Saiba Dining Chair, Design Within Reach
Get The Look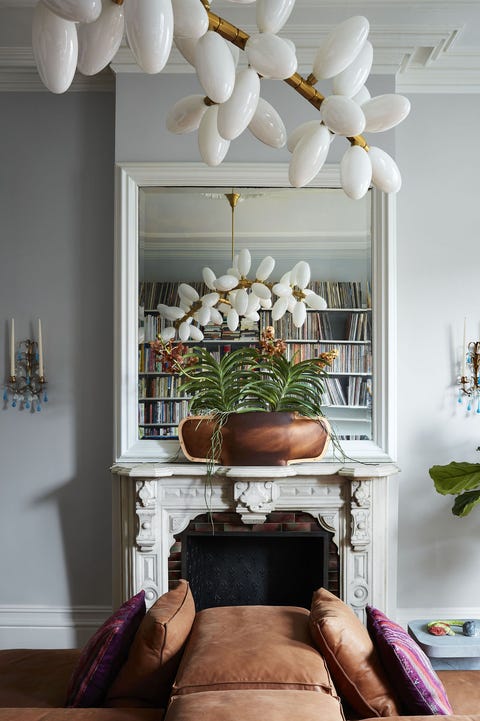 Stephen Kent Johnson
9 of 79
Embrace the Fear of Commitment
To avoid being locked into a single style, lighting designer Lindsey Adelman switches up the fixtures in her Park Slope home on a regular basis. "It's part of my creative process," she explains, "I love to see things in context, in real life—to live with them."
$560, Sphere + Stem Chandelier, West Elm
Get The Look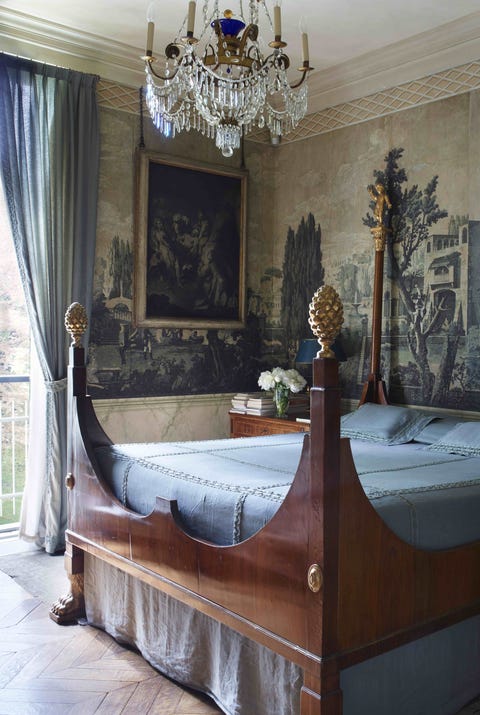 Simon Upton
10 of 79
Use Your Walls as a Canvas
Rather than art, a high-impact wallpaper can give a subdued room some wow-factor. The 19th century wallcovering from this luxe Milan apartment was purchased at auction in France and adapted to the room. "We created the missing parts, the plinth and the ceiling frame, to depict an Italian capriccio, a fantastical and bucolic landscape with architectural features," Laura Sartori Rimini of Studio Peregalli says.
$122, Amazonia Wall Mural, Perigold
Get The Look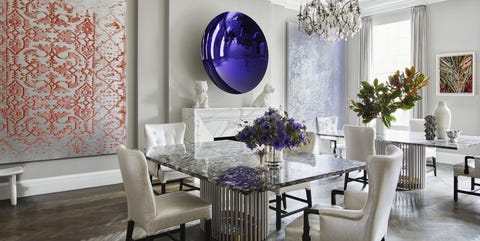 Richard Powers
11 of 79
Anchor Your Room With a Classic
"Bringing a touch of the Old World into the mix creates a home that will never feel dated," designer Alex Papachristidis explains of the art-studded Manhattan apartment he designed for a family friend. For example, the silver leaf–and–rock crystal chandelier from Liz O'Brien that he hung in the otherwise modern dining room.
$3,660, Rococo Iron & Crystal Chandelier, Restoration Hardware
Get The Look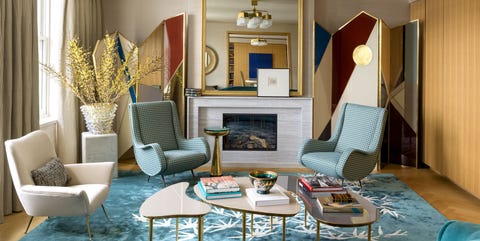 Stephan Julliard
12 of 79
Create Moody Contrast with Color
Instead of meshing a color scheme with a sense of place, designer Irakli Zaria used rich gold and turquoise as an antidote to gloomy London days in this chic pied-a-terre. "In a place where there are such cloudy skies, it makes no sense to have a gray interior," he said.
$6,500, Color Reform Rug, ABC Carpet & Home
Get The Look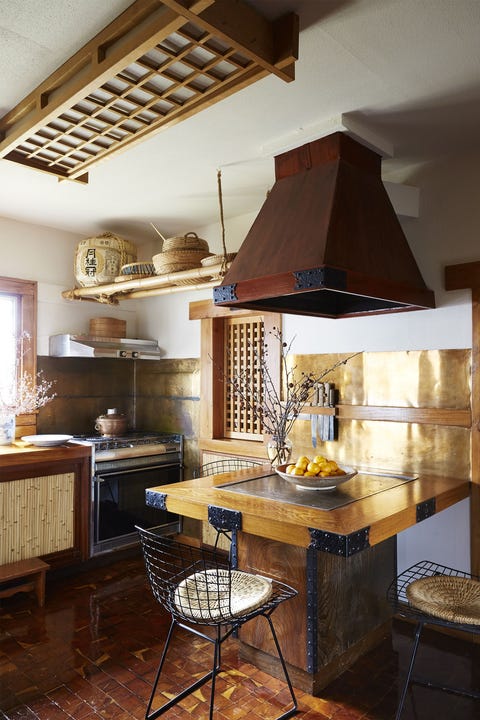 William Abramowicz
13 of 79
Add Playfulness with Repurposed Items
Art director Vivia Horn's zen upstate New York home makes use of an unexpected gift to give her traditional kitchen a dose of fun. This breakfast table made of a refurbished hibachi—a present from the late wrestler and Benihana restaurateur Rocky Aoki.
$1,178, Bertoia Counter Stool, Design Within Reach
Get The Look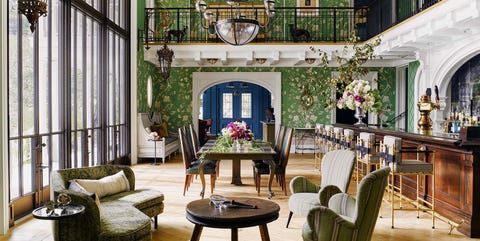 Douglas Friedman
14 of 79
Use Fabrics Beyond Soft Furnishings
Looking beyond the traditional with wallcoverings can create a truly standout design presence. "I do think I might have scared [architect Ken Linsteadt] a little bit when I announced I was planning to install two levels of green floral fabric on the walls of the grand salon," says Ken Fulk of his Sonoma Valley lakeside retreat, yet the fabric gives the high walls a richness that wallpaper alone might not have achieved.
$399, Windsor Pendant Light, Crate & Barrel
Get The Look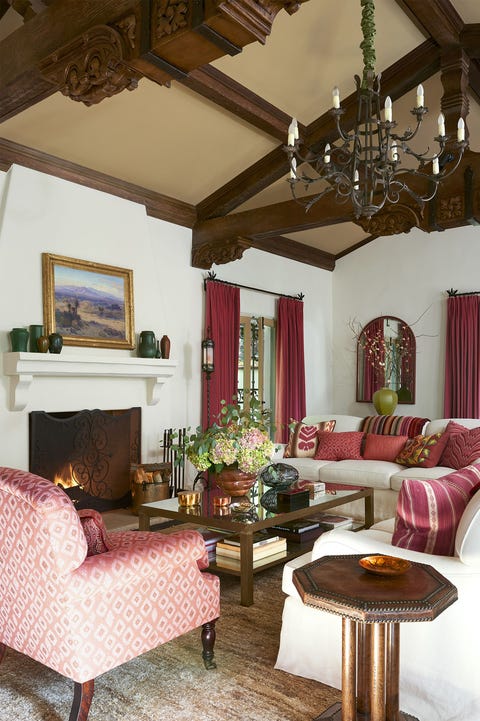 Dominique Vorillon
15 of 79
Balance New and Old
When renovating a building that already has plenty of character, like this 1920s Spanish Colonial home in Los Angeles, it's all about striking the balance between what you add and what you leave. "We wanted to make it feel more holistic while still honoring its heritage," designer Steven Johanknecht says of the decision to keep the original hand-carved ceiling beams and wrought-iron chandeliers while removing mismatched materials from previous renovations.
$959, Laughlin Accent Chair, Horchow
Get The Look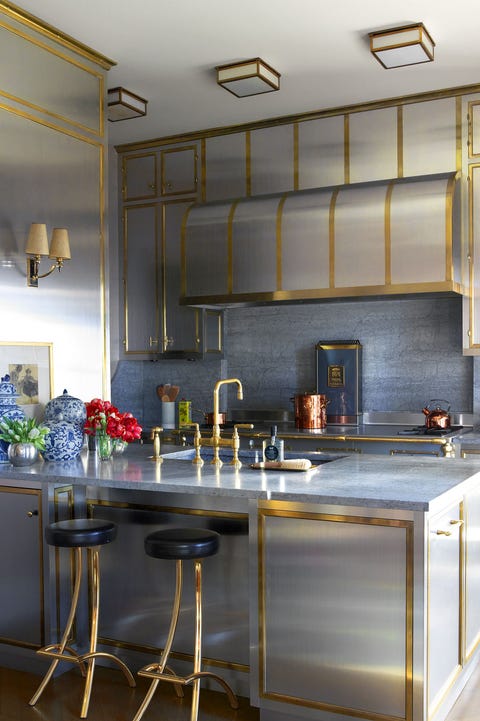 Simon Upton
16 of 79
Mix Metals for Added Warmth
To soften the modern edge of stainless steel, decorator Alisa Bloom put a traditional spin on the kitchen cabinetry of her 1920s Chicago penthouse with brass inlays. With the help of a local hardware maker, she even designed her own hinges and drawer pulls. "I would never go into a store and just buy something," she says. "It's all about the process and the hunt."
$127, Bar Stool, All Modern
Get The Look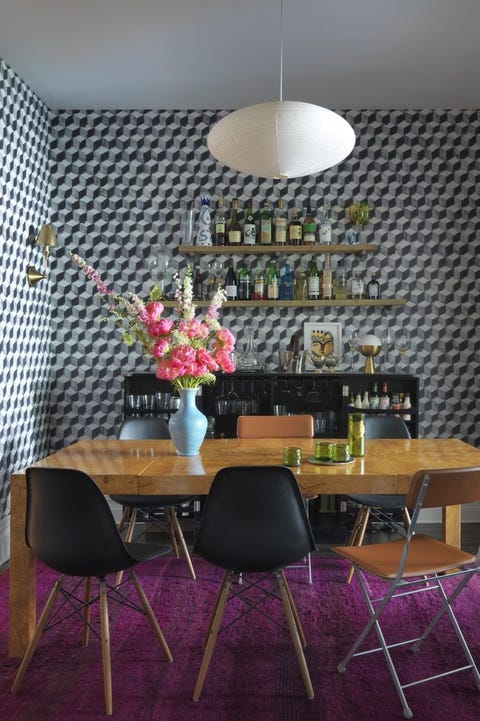 Max Zambelli
17 of 79
Don't Underestimate The Power Of High-Low Design
Kate Reynolds, co-owner of Studio Four NYC, believes in pairing big-ticket items with budget finds. "I think a room balances out better when you have different levels of price and craftsmanship," she says. "It helps you notice the statement piece more."
$395, Nelson Saucer Pendant Lamp, Design Within Reach
Get The Look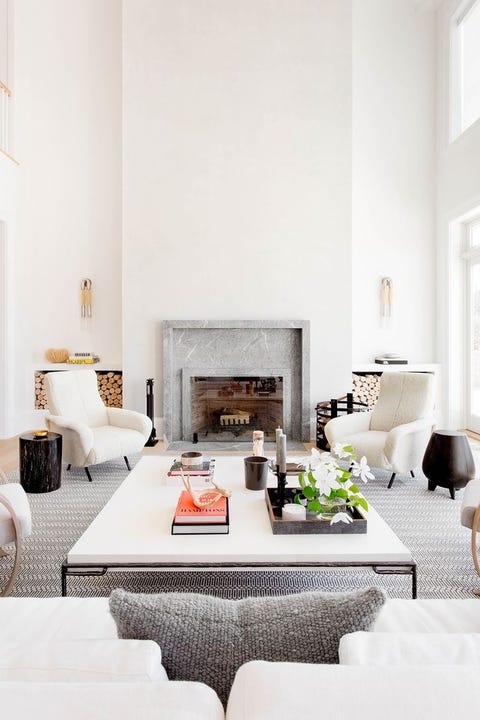 Rikki Snyder
18 of 79
Invite Nature Indoors
The best way to balance out sleek lines and contemporary furniture is by adding a few unique natural elements, from drift wood to greenery. "I don't like to look around a house and not see touches from the outdoors," interior designer Tamara Magel says.
$599, Petrified Wood Side Table, CB2
Get The Look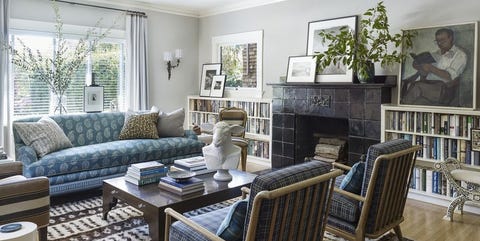 Björn Wallander
19 of 79
Layer Decor Over The Years
"I love to see the layers of time and renovations," says California-based interior designer Patrick Printy. "To me, it deepens the effect." Achieving a sense of harmony that feels organic is key.
$1,099, Alex Navy Blue Accent Chair, 1stdibs
Get The Look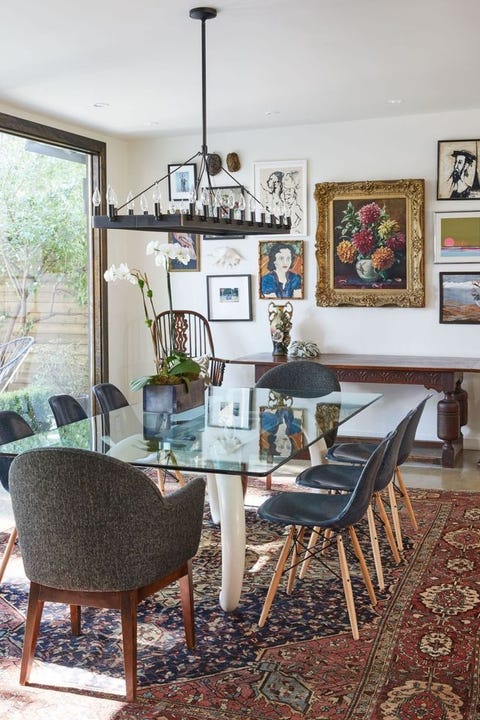 Cody Ulrich
20 of 79
Combine Your Favorite Design Styles
"A lot of people love the idea of really simple, modern living—it's appealing, it's nice and it seems serene," says Erika Yeaman, a Homepolish designer and owner of YES Associates. "But the reality of maintaining that is a little tricker. Mixing Scandinavian design with bohemian style warms it up and makes it feel more homey and attainable."
$480, Arturo 8-Light Rectangular Chandelier, Ballard Designs
Get The Look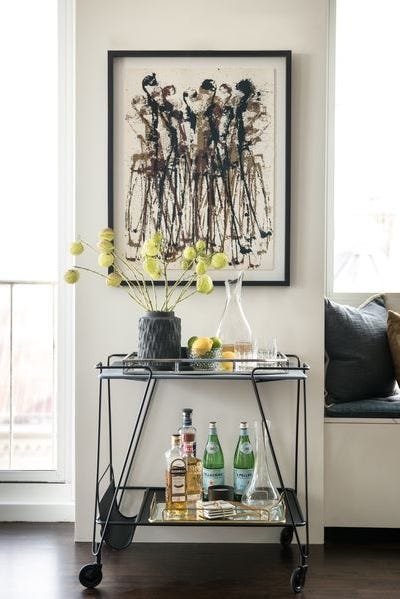 Thomas Kuok
21 of 79
Play With Texture
It's easy to gravitate toward the usual suspects like wood and leather when trying to craft a textured living space, but branch outside of your comfort zone. Emilie Munroe of Studio Munroe recommends drawing from your own personal style, especially the articles of clothing and patterns you're attracted to.
$1,109, Matégot Bar Cart, TRNK
Get The Look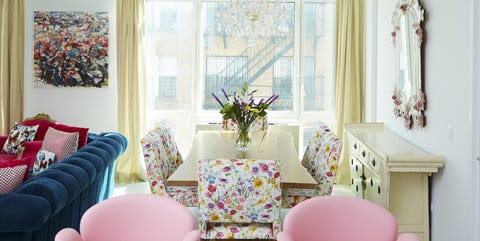 Genevieve Garruppo
22 of 79
Create A "Bouquet" Of Colors
Want to make a variety of bright colors cohesive? Think about how you would arrange a flower bouquet, as Sasha Bikoff did in this SoHo apartment. "The same can apply to a space, but you need to find a connection," she says. "Here, that connection is the fabric on the dining room chairs, which showcases colors also found throughout the room."
$695, Mid Century Dining Chair, Mod Shop
Get The Look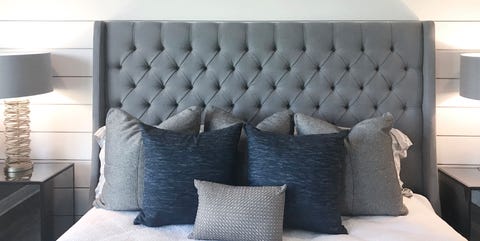 Getty / TriggerPhoto
23 of 79
Installing Shiplap? Go Horizontal (Usually)
If Chip and Joanna Gaines have convinced you that your abode needs shiplap, you're usually best off installing the boards horizontally rather than vertically. "It can really expand a space, making it feel larger than vertical boards can," says Jason Arnold. "Horizontal boards also feel more contemporary." Vertical boards, however, can be ideal for rooms with high ceilings.
$72, Shiplap Interior Siding, Home Depot
Get The Look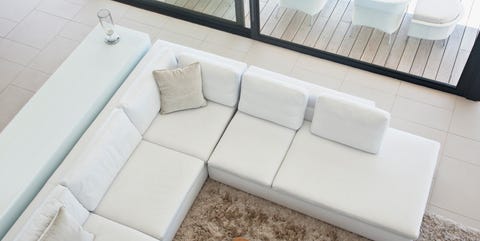 Getty Images
24 of 79
Don't Sacrifice Comfort
Sure, your eyes may want the most modern, chic couch in the showroom. But your back may not. "In my experience, it's really better to test out seating and take the time to look at the dimensions," says Sharon Blaustein. If you're tall, for instance, you might want to opt for a depth of between 40 to 42 inches for a sofa (rather than the standard depth of 36 inches).
$3,599, Aidan 2-Piece Sectional Sofa, Crate & Barrel
Get The Look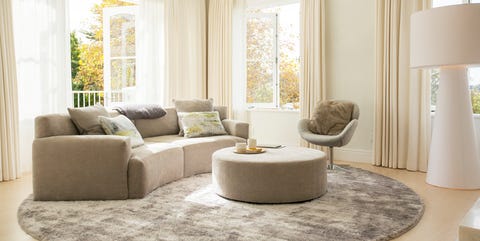 Getty / Hoxton / Tom Merton
25 of 79
Always Shop For A Rug In Person
This is not the time for e-shopping, people. "It's just so hard to tell on a computer screen what the color really looks like," Arnold says. "You might think it looks red, but in reality, it's watermelon pink." Not to mention the texture of the rug may be totally different than what you were expecting.
$225, Safavieh Adirondack Round Area Rug, Bed, Bath & Beyond
Get The Look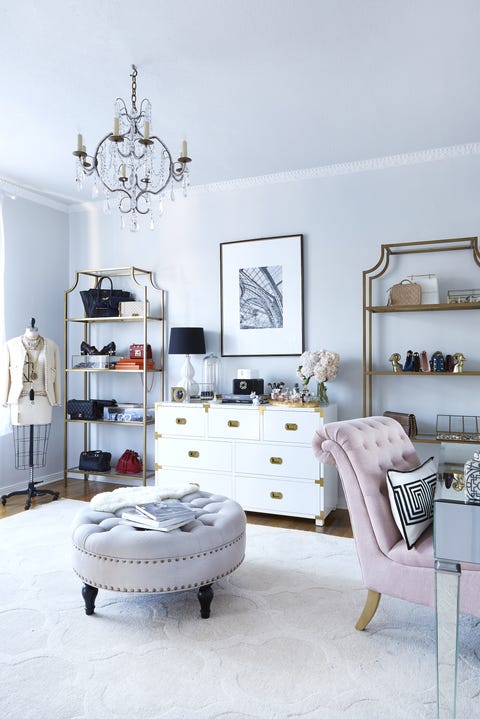 Jessica Alexander
26 of 79
Let A Locale Inspire Your Space
It's exactly what Jenny Cipoletti, founder of fashion, beauty and travel blog Margo & Me, did in her decidedly Parisian office (which is actually in West Hollywood). "Just like when you walk into a cafe in Paris, and you see all the details and the golds, silvers and light blush tones, all of these elements in this space really sing to me," says Cipoletti. This lets you travel to your favorite destination without stepping outside.
$169, Round Tufted Linen Ottoman, Wayfair
Get The Look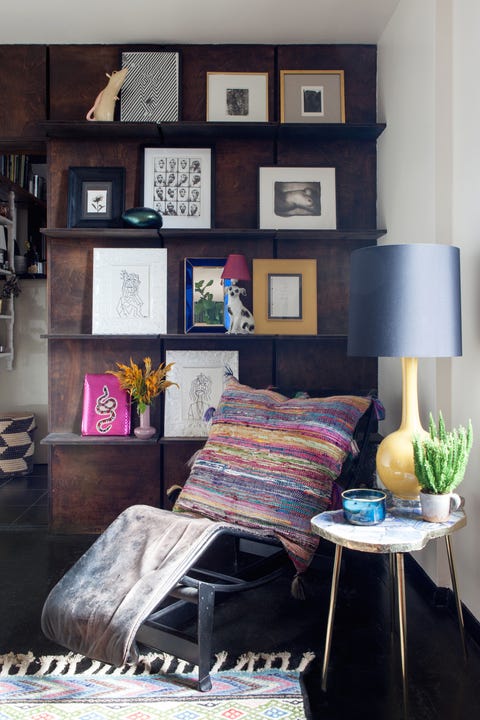 HomeGoods/Reid Rolls
27 of 79
Never Settle On One "Look"
Allow your space to continuously change—as your life does. "Remember that your home should always be evolving, just as you are," says Kelly Framel, creative director, stylist and founder of online magazine The Glamourai. "I am constantly picking up new treasures on my travels. Your nest should always be a place of comfort and inspiration, and it's a constant work in progress."
$100, Yellow Droplet Table Lamp, Lamps Plus
Get The Look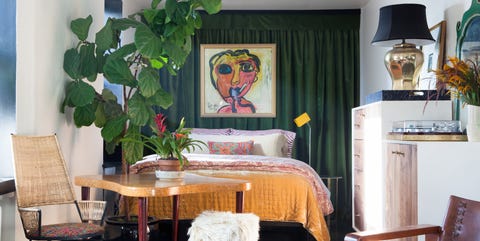 HomeGoods/Reid Rolls
28 of 79
Use Curtains As A Backdrop For Art
Instead of hanging a painting on a bare wall, accent it with a rich, velvet curtain background. "Curtains just create a great, calming energy in which you feel very shrouded and comforted, making for a luxurious and restful environment," says Framel. "And being able to put a really great pop of artwork in front of that textural colored backdrop has a lot of impact."
$409, Inverted Pleat Drapes, The Shade Store
Get The Look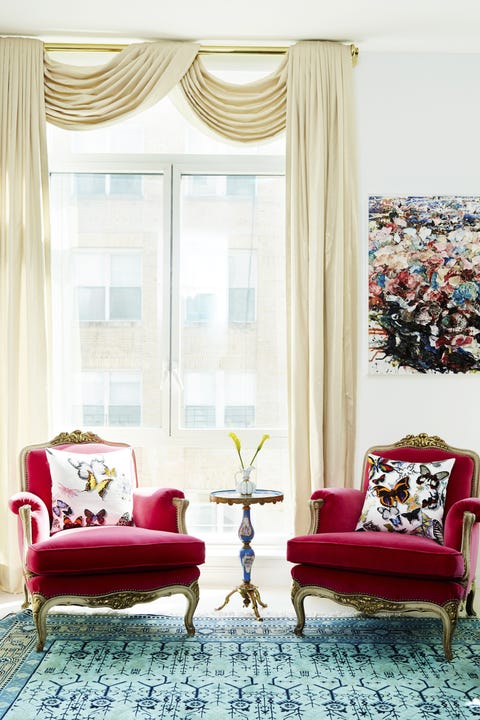 Genevieve Garruppo
29 of 79
Upholster Antique Furniture With Modern Fabric
Make what's old new again by invigorating antique pieces with colorful fabric from the 21st century. Take, for example, the two 18th-century French bergère chairs here, upholstered in a hot pink Maharam fabric. "Maharam is a very modern, contemporary fabric company, with velvets that are really bright in color," says Bikoff. "That color was such a pop of freshness and youthfulness on these old chairs."
$6,950, Pair of French Louis XVI Style 1870s Wingback Bergères Chairs with Upholstery, 1stdibs
Get The Look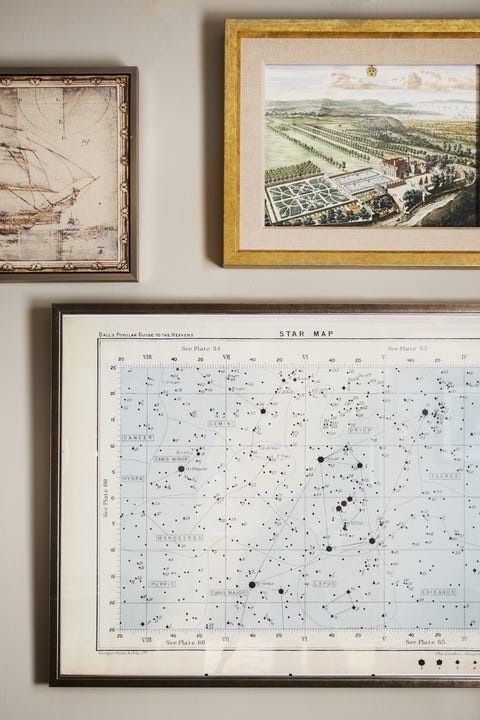 HomeGoods/Matt Harrington
30 of 79
Choose One Piece Of Artwork To Anchor The Room
In Josh Groban's "The Great Comet" dressing room, interior designer Mike Harrison selected this constellation artwork as a clear focal point for the room. "I loved this piece for its dimensions and colors, but also as a tip of the hat to the 'Comet' influences that I know were of importance to Josh," says Harrison. "I was searching for artwork that would tie together all of Josh's design sensibilities."
$18+, Star Map Print, Etsy
Get The Look
Advertisement – Continue Reading Below
This content is created and maintained by a third party, and imported onto this page to help users provide their email addresses. You may be able to find more information about this and similar content at piano.io
This commenting section is created and maintained by a third party, and imported onto this page. You may be able to find more information on their web site.