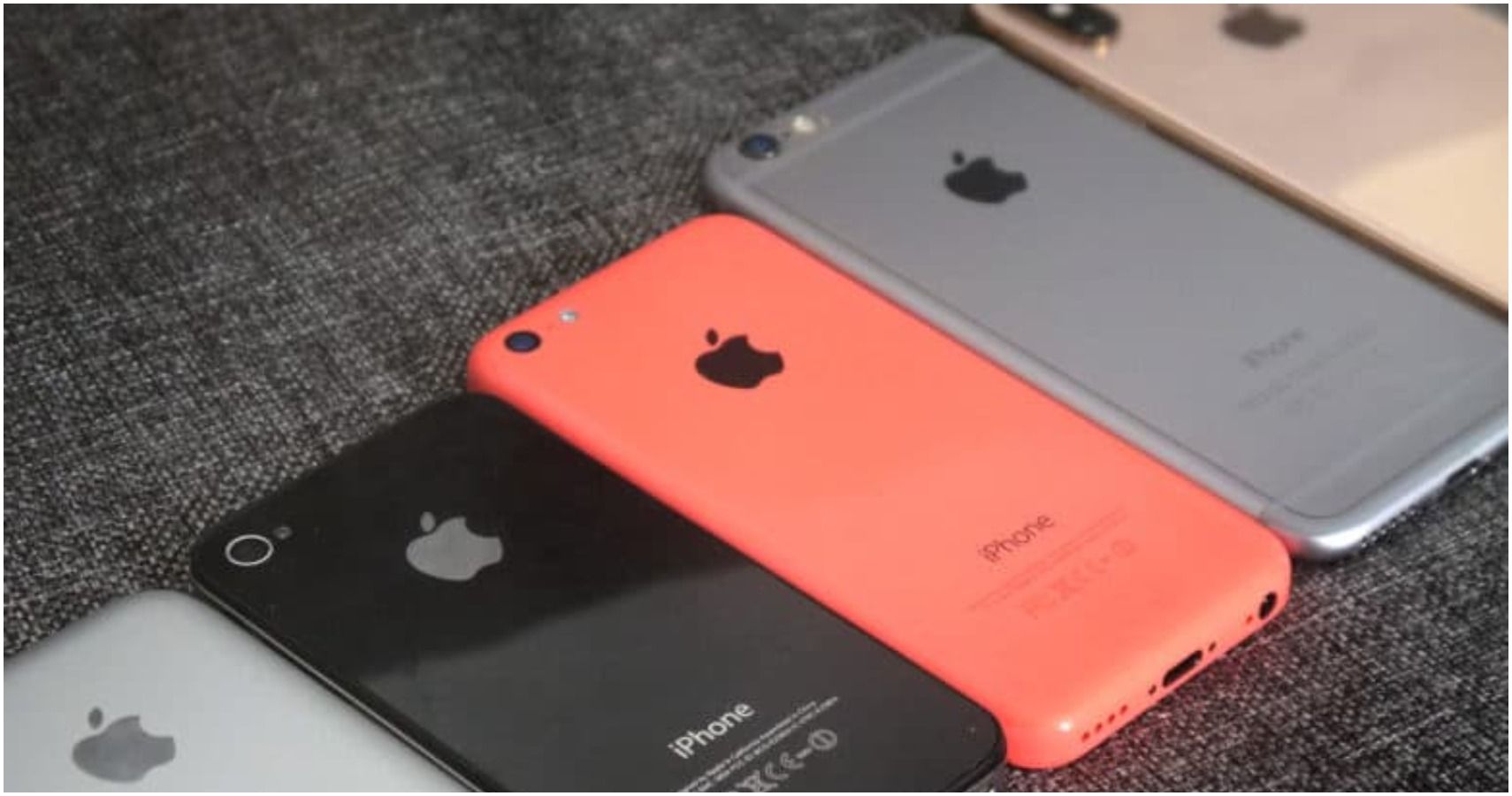 This list counts down every iPhone release ever, starting in 2007, more than a decade ago, to the latest, the 11th version of Apple's smartphone.
Jan 20, 2020
iPhones are still hot, with the newest iPhone 11 proving to be one of the hottest selling devices this year. But this isn't the first time a phone has gathered this much fame, in this short amount of time. Almost every time Apple reveals a new iPhone, it sells like it's made of candy and sets new trends.
RELATED: It's Been 13 Years Today Since The Original iPhone Was Revealed
But where and more importantly, when did the iPhone's rise to success begin? Watch as this list counts down every single iPhone release ever, starting in 2007, more than a decade ago, to the latest iPhone, the 11th edition of the successful series of phones.
10 The iPhone-June, 2007
Released on June 29,2007, the original Apple iPhone, had a 3.5″ display screen, was 11.6mm thick and had a staggering 16GB of storage! Compared to phone memory today that doesn't seem like much, but it was enormous at the time. It had a 128MB memory, which was fairly impressive and weighed just 135 grams.
It was, however, considered ahead of its time, and as Apple, who had now "reimagined the phone," were bathing in the glow of the iPhone's success. Apple immediately began plans for a new iPhone, aimed at beating its predecessor, in every category. This was not an easy task given the available technology at the time.
9 iPhone 3G- July 11, 2008
Hardly one year after the release of the first iPhone, which took place before the App Store, Apple released the "Phone you have all been waiting for." It had 3G connectivity and a base storage of 8GB, small compared to its predecessor, though it was originally release with 16 GB and 32 GB version instead. It was 12.3mm thick, weighed 133 grams, had a 3.5″ display screen and a 2MP camera, along with a 128MB memory. The differences between the iPhone 3 and the original iPhone were slight, except for the App Store and its 3G connectivity. Even so, it sold a million units in the first weekend of its release. It was really an incredible feat of marketing and technology and paved the way for the next phone, which again promised to be better than the last phone.
Less than 11 months after the ground-breaking iPhone3, Apple, riding the success of the previous version, released the iPhone 3G(S) on June 19, 2009. At the time it was "The most powerful Phone" ever made.
It also sold a million units in its first week. Apple realized that with the recent introduction of its App Store, 16 GB wasn't going to cut it, so they released this version with 32 GB max, and a 256MB memory, which was double as compared to the 128MB of the iPhone and the iPhone 3G.
8 iPhone 4- June 24, 2010
1 year and 5 days later, Apple "changed everything. Again." and they were right. With 9.3 mm thickness and a 3.5″ display and a 5.0 MP camera, and 512 MB memory, Apple just increased and improved its product in all dimensions.
"The most amazing iPhone, yet!" the iPhone 4S was released on October 14, 2011, with an 8 MP camera, 64 GB storage and digital personal assistant Siri, along with 1080p video recording. Selling 4 million units in its first week, things seemed to be just getting better and better for Apple.
7 iPhone 5- September 21, 2012
"The best thing to happen to iPhone since iPhone." This phone released and introduced some revolutionary changes: 1 GB memory, LTE Connectivity, and lightning connectors. Even more successful than its predecessor, it sold 5 million units sold in its first week. Newer versions of this model– the 5C and 5S– were released roughly a year later, on September 30, 2013.
"You're more powerful than you think." was the iPhone 5S's marketing mantra. With slow-motion video capture, dual flash, touch ID, 4″ display and 8.0 MP camera. While the iPhone 5C, released in several different colors, had features similar to the iPhone 5S's, it still sold over 9 million units, collectively.
6 iPhone 6 and 6 plus- September 19, 2014
Retina HD display,128 GB storage, 5.5″ display(Plus) and 10 million sales in the first week. Another huge success for Apple, with a 12 MP camera, and 2 GB memory, an all-out improvement for Apple's technology, as it grew and grew to levels beyond the previous iPhones, and many of its rival phone companies.
5 iPhone SE-March 31,2016
A more affordable option compared to the iPhone 6, the SE had everything but the iPhone 6's 3D touch. It was basically a cheaper version of the iPhone, which people really loved but quickly forgot about. Later in the year the success of the iPhone 7 overshadowed the minuscule changes the SE made to the affordable phones industry.
4 iPhone 7 and 7 Plus-September 16,2016
Months after the iPhone SE, Apple introduced the iPhone 7. It had a 16GB base option, 32 GB and 256 GB storage, dual camera and that beautiful jet black color. This was when Apple removed the headphone jack to replace earbuds with EarPods and a wireless converter. This phone became an instant success even before its release with a huge number of pre-orders.
3 iPhone 8 and 8 Plus- September 17,2017
By this time, users had already grown used to the non-headphone jack lifestyle and enjoyed the phone's great photo editing and photo filtering. The introduction of the glass cover on the phone's back and wireless charging made this a win-win situation. The true-tone display turned out to be a genuine improvement as well.
2 iPhone X-November 3,2017
Portrait mode, an extra front-facing camera, an improved display resolution made people fall in love with this phone instantly. However, as Apple removed the phone's home button, they did get some occasional dirty looks.
RELATED: IPhone X: Pre-Order & Release Dates, Price, & Features Revealed
A little pricey, but proving itself to be worth the price, this phone had it all. There were several iterations of this basic model. The iPhone XS and XS Max were released on September 21, 2018. These had Super Retin HD display, awesome looks, and an awesome camera. However, Apple did take the 7 ate 9 jokes quite literally, as there was no iPhone 9, ever. Regardless, the A12 Bionic chip increased these phones' efficiency and battery life.
The iPhone XR was another version of this model. Released only a month later, October 26, 2018, it was announced with the iPhone X. This phone was smaller than the XS and XS Max but was bigger than the 7 and 8 plus. It wasn't as ground-breaking or as special as the X or the XS, but a colored, more affordable option, which did succeed, but everyone agreed it wasn't as good as the X, XS or the XS Max.
1 iPhone 11-September 20,2019
The day a man Naruto Ran, in Area 51, Apple announced the least-expensive addition to its annual line, yet a running contender for 2019's most famous and popular phone. 11 and 12 MB cameras on the back and ultra-wide lenses, made this an instant winner. That same day, Apple released the iPhone 11 Pro, a slightly bigger iPhone with a prominent triple-camera back. This phone made headlines as it released, mostly in the meme world.
RELATED: Every Difference Between The iPhone 11 And The iPhone 11 Pro
The 11 Pro offered super retina XDR display, with three 12 MB cameras, but with fewer color options. Also on this same day, Apple released its most expensive phone to date, the iPhone 11 Pro Max. The Pro Max featured Super Hd retina XDR display. basically the same as the iPhones 11 and 11Pro, but with a considerably larger screen, proving to be just enough of an advance to rack up many buyers on its release, regardless of its price.
NEXT: Tom Holland Calls Spider-Man Suit Best iPhone Ever
Next Stranger Things: Eleven's 5 Best Traits (& 5 Worst)
Related TopicsAbout The AuthorQasim Hasnain (23 Articles Published)
Qasim is a young writer who aspires to be something big. He has won the International Kangaroo Linguistic Contest twice ( once globally and once locally). He avidly reads books and is avidly watching marvel movies since he was two years old. He loves both Marvel and DC but is more inclined towards Marvel. He is a list writer for ScreenRant. He loves playing video games and watching movies.
More From Qasim Hasnain

Source