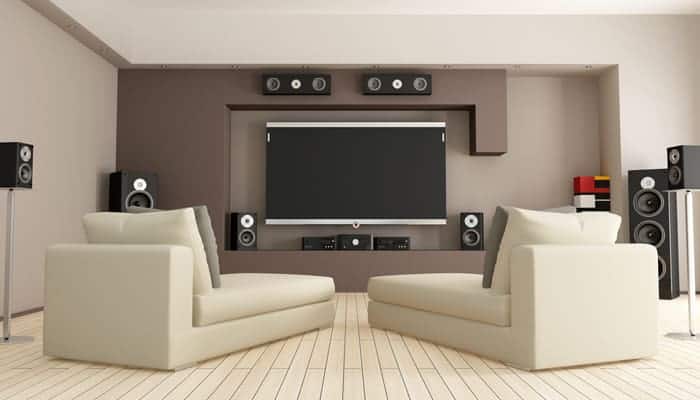 2. Bose Wave SoundTouch Music System

Find Lowest Price
Bose sits at the top of the food chain in the home stereo system market. It is one of the brands that push the envelope in innovation and design while offering listeners impeccable sound quality. The Bose Wave SoundTouch Music System is not a budget purchase, and it delivers the level of impressive quality that luxury seekers will love.
The Wave SoundTouch system is a compact streaming hub for all of your favorite music. Whether you're on Spotify or Apple Music, it's compatible with both. You can listen to thousands of radio stations using the Tunein app. Also, for all the old schoolers who want to hear Big Shiny Tunes 5, there's also a CD player where you can listen to disks, and you can tune into the AM/FM stations.
Using their unique design, the Bose Wave can provide room-filling sound within the compact system. It connects easily to your home wifi and Bluetooth services, and you can log into the Bose app to use your phone as the remote control for the system.
It's elegant, intuitive, and widely capable, offering you everything you need in a convenient and fun home stereo system. If you're looking for some of the richest and well-balanced sounds you can find, the Bose Wave SoundTouch might be your full-stop product. It's also Alexa-enabled, so you can control everything without lifting a finger.
Pros:
+ Receiver and speakers in one unit
+ Full sound
+ Use your phone as the remote
+ Compatible with all streaming service plus radio stations
+ Alexa-enabled
Why We Liked It – The Wave SoundTouch system from Bose is one of the most impressive-sounding systems available. It features Bose's award-winning quality that is rich and well-balanced to give you one of the best listening experiences possible. If you're in the market for a luxury sound system that still comes in well under $1000, the Wave Soundtouch is the way to go. It may not have a subwoofer, but it still packs plenty of bass.
6. Rockville HTS56 Home Theater System

Find Lowest Price
The Rockville HTS56 Home Theater System might be your option for a budget-friendly home stereo system with great sound and intelligent design. It's the most value-focused system on our list but does not waver in terms of quality and reliability. It has many of the features that some of our most high-octane products have.
It offers bright, deep, rich sound through the woofer and all five speakers. It also features 5-band EQ so you can tune the sound specifically to your needs and enjoy your music and movies to the fullest. The bass is fantastic, and you can connect everything to the receiver wirelessly.
It's built for surround sound with 5.1 audio, where you can listen to your music or movies right in the middle of the action. Like any good home stereo system, you can connect everything via Bluetooth. Also, it's made strong using an MDF board instead of a particle board like many other brands.
When you're listening to music wirelessly, the sound broadcasts through all five speakers instead of only through the front two. 1000-watts of peak power will surely give you the volume you want to make your hair stand up on end when you're listening.
It comes with a ton of connectivity options for RCA, AUX, Headphones, Bluetooth, and more. Instead of using your phone as the remote, it has a remote control, which is a little outdated, considering the app level integration used by many current audio suppliers.
Pros:
+ High 1000-watts
+ Bluetooth connectivity
+ Deep bass, clear treble
+ Budget-friendly
+ 5.1 surround-sound
Why We Liked It – As a budget-conscious option, the HTS56 home stereo receiver is a powerful system that will offer you an immersive audio experience. It's easy to use and connects wirelessly to your devices so you can chill out and listen to music in surround sound. It's one of the more powerful products on this list and will let you get in the middle of the action when watching movies.
Important Features to Consider
There are a ton of factors that will determine what will be a good home stereo system for you. Based on price, power, sound quality, connectivity, intended use, compatibility, and many other things, you will want to find the exact system that is right for your home audio needs. Because of the complexity of this subject, we have put together a guide of some of the most important factors to keep in mind when picking out your home audio system.
Intended Use
The first thing you're going to want to ask yourself is what you're planning on using your home stereo system for. There are lots of scenarios in which you may be using your speakers. From simply listening to music to watching movies and hosting parties, what are you looking to get out of your home audio system?
If you're going to be listening to music but won't be watching any movies, then you can go with a more compact system that doesn't require surround sound. If you like to be able to take your system into different rooms, then you'll want a small system that's good for moving around. Conversely, if you want to have a stay-at-home setup that never movies, then a full-on surround sound system may be the best way to go for you.
Of course, a smaller system with a compact and simple design is still usable with movies, but it won't produce the surround sound that some listeners may want. Also, surround sound can be fantastic for listening to music if you're going to put on a new album and zone out. With new music recording technology, there are tons of immersive records that are designed to be listened to in surround sound.
So, start by figuring out precisely what type of listening experience you're after, and go from there.
Sound Quality
You can't sacrifice sound quality. Whether you're putting together a home theater, or you just want to listen to AM/FM radio, the sound quality is where the money's at. You're going to want a system that can provide full, rich bass, with clear high frequencies and crunchy mids. Various EQ options don't hurt either. The more you can tweak the sound to your specific needs, the more satisfied you will be.
Sound quality will be affected by several factors — the quality of the speaker, connectivity capabilities, acoustic calibration technology, and the number of speakers. A good system is equipped to handle a wide range of uses, blasting high-end quality audio for any space.
The amount of wattage will play a factor because whether you're trying to power a small or a large room, you may need more or less power. 1000-watts with thumping bass may not be necessary for your home theater, but it will be if you plan to crank up the volume for a party or dig into whatever movie you're watching.
No matter which way you slice it, sound quality is endlessly crucial for a home stereo system. Read reviews from buying customers of whichever system you're looking at and determine if the sound quality will be useful for you.
Connectivity
You may want a wide range of connectivity specs. When you do, it merely gives you more options for devices you want to hook up. All good home stereos these days will have a wireless connection, but should also be able to support USB connections.
Wireless signals are a little less reliable than USB and RCA connections, but new systems will generally still be pretty reliable. You don't need to worry about losing connection on a wireless hook up, but it is always good to be able to fall back onto a wired connection.
Do you want speakers that connect using wires, or would you like to have a completely wireless system? Wireless systems offer a neat and tidy look without cables lying everywhere, which is nice. Also, it allows you to place your speakers anywhere you want in the space so you can change around the listening experience as you desire.
If your speakers and your stereo systems come with compatible apps, it will add to your level of convenience during setup and navigation. Most of the best products will allow seamless streaming services so you can listen to your favorite provider or the radio when necessary.
Volume
The level of the volume necessary for your stereo will be mostly dependent on what you're using it for. If you've got a small room where you're doing most of your listening, then you can go with a lower volume model, which may save you a little bit of money on the front end.
There won't be much need for a subwoofer or a ton of bass boosting components. Systems like the Bose Wave SoundTouch are perfect for smaller rooms, especially if you want to be able to take it from space to space.
On the contrary, if you need a little more bass and the capability to ring in people's ears, then you may want to go with a system with more wattage. Aim for something above the 200-watt level and go from there. You'll want a good subwoofer, especially if you're hosting people and if you have a massive craving for some extra bass in your music.
The loudest stereo isn't necessarily the best. There are plenty of good small systems that are loud enough to satisfy a wide range of needs. However, if the volume and power are at the top of your priority list, then make sure you've got a subwoofer and the power necessary to fill the room.
Size
Another factor to consider is the size of the home stereo system you want. If you want a system that you can take from room to room, then keep in mind that larger systems also tend to be a lot heavier. Likewise, if you have a space that doesn't have a ton of room for an extra couple of speakers and a subwoofer, then you'll want to downsize just a little bit. A smaller stereo can be suitable for a wide variety of spaces, whereas larger ones have to stay put and take up a good deal of real estate in your area.
Style
The style of your stereo will be only important if you want to make sure that your stereo fits in with the rest of your decor. If you're a classic nester, then you should be able to find a system that fits your needs. Luckily, brands are making systems in very modern and aesthetically pleasing ways that work for basically any home theater. You should be able to impress your family and friends with the sound quality of your system, as well as your home decorating abilities.
Channel Capability
These days, we are mostly streaming music wirelessly via Bluetooth and playing using Spotify or Apple Music. Or, we are connected using a USB cable. Every good stereo will have the ability to handle wireless connections in 2020.
However, if you're interested in having a CD player or an AM/FM radio, then make sure you're getting a stereo that you can tune to your favorite stations. That way, if you're a talk radio fan, or you simply like to keep up with the latest radio hits and gossip, you can do so.
Having the radio capability is nice because you can just tune it and leave it on all day. Even some of the best playlists need to be attended to every once in a while. The more your stereo can do, the more options you will have for your listening pleasure. Just ensure that the radio you get has a wireless receiver, a USB hookup, and any other add-ons you may need.
Innovative Technology
Some of the newest and best stereo music players available have some exciting technology that may change the way you enjoy your music or movies. For instance, many home theater stereos can calibrate to the acoustic environment in which they are placed. That means that they can manipulate the sound to ensure that all listeners in the room experience the best possible version of the audio being played.
Another of the best stereo systems has a coveted Auto-DJ application, which is super handy. When people are on the dancefloor and feeling the bass pumping out of the subwoofer, the last thing you want is a break in the music. With the Auto-DJ setup, you can press play, and you don't have to worry about touching it again. It's a neat little party trick.
Of course, fancy technology won't be 100% necessary. There are tons of good home audio players that don't have these types of bells and whistles and still compete with many of the other best options on our list.
Warranty
No matter what type of stereo you are buying, you'll need to make sure it has a rock-solid warranty. A warranty will protect you from any manufacturer defects that may be present, and it will save you a lot of headaches in the future. You want your headaches to be because of the bass coming out of the subwoofer, not from the stereo no longer working and having you buy another one.
Read through your warranty thoroughly before buying. The best guarantee will protect you against pretty much everything outside of your control. Then, when any problems do arise, you'll be covered, and you will be able to get what you need without the inconvenience of having to buy two home audio systems.
Durability
Coincidentally, most of the home audio systems with high durability also have good warranties. That's because good companies are good all around. You want to ensure that any of the stereo products you're buying will be able to handle a little bit of abuse.
Luckily, stereo players are generally not in the crash zone of most parties, but in the odd case of a drink spilling or something smashing on top of it, you'll have to make sure that your player has a good amount of strength and durability to handle anything that may happen unexpectedly.
Budget
Lastly, your budget is something that we would put at the top of the priority list. There are a ton of top-performing audio players for the home out there with excellent speakers and high-end receivers that you can get without overpaying. Would you want the best stereo on the block with an impressive home setup that puts you into debt?
Probably not. A subwoofer, receiver, full-sized speakers, and a ton of bass may not be 100% necessary for you. So just keep the absolute essentials in mind when you're shopping, and you're on a budget.
Conclusion
We are confident that within our list of the top eight home stereo systems is one that would be good for you. Of course, for many people, various systems would work better than others. Try to keep the buying factors in mind listed in our buyer's guide as you're looking, and you should be able to pick out the best home stereo system for you.
If you've enjoyed this review by Music Critic, please leave a positive rating: